SAIS IP COMPACT CAM
Full Frame Rate, 1080p with Zoom Lens Option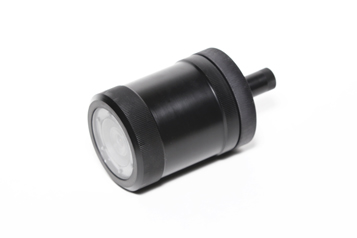 The Compact camera is exactly that; Compact. At just under 3 3/4 inch diameter and less than 5 inches long, it is a powerful 1080p full 30 frame per second (fps) camera in a small package. The camera is PoE but can be configured to accept an auxillary power source of 12 -48 VDC or 24V AC, all over a single CAT-5e cable. An onboard MicroSD memory card (aka EDGE STORAGE) can be employed to store recorded data. The camera has built in motion detection ability which can be used to trigger recording to the MicroSD card. Also available are two alarm I/O lines which can be attached to relays or other devices to be triggered by motion detection or topside by the operator. This camera can be supplied with the standard 1080p module or a 10 megapixel module for high resolution still images as well as video. See the spec sheet for full details.
The National Aquarium uses a SAIS IP-Compact CAM in their "Jellies Cam" exhibit. As they say on the link "Watch these animals pulse for a minute or two and feel the stresses of the day melt away."
Click here for a live view
(NOTE - the camera is on only during daylight hours, United States East Coast Time = GMT - 5hrs) See the Spec Sheet and Technical Drawing above for options and contact us for pricing.
For more Information:
Tel:+858 414 0383 - San Diego, USA
info@subaquaimaging.com
Contact Us Here >>>
Contact Us
Tel:
+858 4140383 - San Diego, USA

Email::
info@subaquaimaging.com

Compact Camera Customers include:


www.aqua.org/webcams
The National Aquarium uses a SAIS IP-Compact CAM in their "Jellies Cam" exhibit.

www.Pro-ROV.com
Pro ROV, Providing Hydrographic Imaging, 3D Modeling, Inspection and survey.

www.sstl.com/
Survival Systems Training, The SAIS IP-Compact CAM is used in the Helicopter Water Egress Simulator.